About Reiki
Reiki is an ancient healing art promoting harmony of mind, body and spirit. It was reintroduced in Japan by Doctor Mikao Usui in the second half of the 19th century. Reiki is a holistic form of therapy based on the vital energy each one of us carry from birth. According to seasons, to life challenges, to our state of mind and to people around us... our natural flow of energy varies. During stressful time it is slowed down or restricted and this is when we start experiencing dis-ease. Reiki is a subtle hands-on healing therapy. This vibrant energy stimulates the body's innate ability to re-establish its balance bringing a deep sense of relaxation and inner peace as well as increasing vitality. Reiki helps you reconnect with your sense of well-being.
It is an experience beyond words.
Testimonials
I attended Reiki 1 workshop 18 months ago and I still often reflect on those two days, a truly special time. Nathalie, in her own way, simply guided the group to an uplifting and inspiring experience. She has a very caring and calm way of teaching and I was made at ease from the very beginning. I felt no pressure to perform, I was carefully guided to listen to what felt right within. Since the workshop, I know that whatever happens, wherever I am, I can use Reiki to nurture myself. I just need to create a quiet time for practice. Today I am eager to go further and deeper so that I can feel more confident to share with others what Nathalie teaches so skilfully.
Marie-Luce (FR)
Having been treated by Nathalie for some time now and feeling the benefit of her Reiki abilities, I asked her to treat my 17-year-old daughter who was suffering from chronic insomnia, perhaps related to exam stress. My daughter was very sceptical, but when she came out of her first session with Nathalie she told me she was rather amazed by her body's reaction. She had felt 'all sorts of things going on'. After two sessions, she started to settle down emotionally, and, with the help also perhaps of some homeopathic medication for insomnia, she returned to her normal very healthy sleep patterns within weeks. She was able to revise and sit her exams fully refreshed from sound sleep. It was an enormous relief for her and for me.
Bibi (UK)
I first came to Nathalie because of stress related issues. With Reiki I am able to let go of my busy mind and enjoy feeling truly alive in the now. For me a Reiki session is like pressing the pause button in my hectic life, it helps me to relax and connect to a sense of inner-peace. I feel more calm and grounded, more present. When I come to Nathalie I know I take care of myself in a very special way.
Christine (UK)
Create harmony of mind body and spirit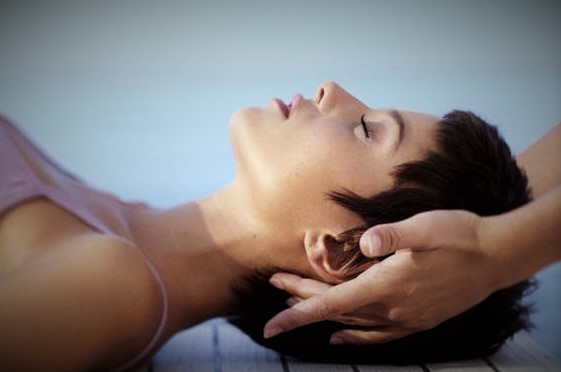 Reconnect with your sense of well-being. If you are in pain or if you feel stressed let the Reiki energy take care of your physical, mental and emotional health to restore your inner balance. You will not need to do anything just lie down, with comfortable clothes on, and enjoy the experience. Reiki can be given with hands touching the body or just above the body, as you prefer.
If you want to be initiated to Reiki and learn to use it yourself, attend a workshop. There are three levels of qualifications but everyone starts with level 1. Reiki workshops are a profound experience of the energy and this experience is unique to each participant. Workshops take place over two days and are held in the intimacy of small groups.
If you have completed Reiki Level 1, 2 or 3 you can join a group session, you will have the opportunity to practice giving a treatment to other Reiki students and you will enjoy receiving a treatment in return. Sessions are held twice a month and offer a unique opportunity to enjoy Reiki together.
Sessions are held twice a month, and offer a unique opprtunity to enjoy Reiki together.